Email List of  Architects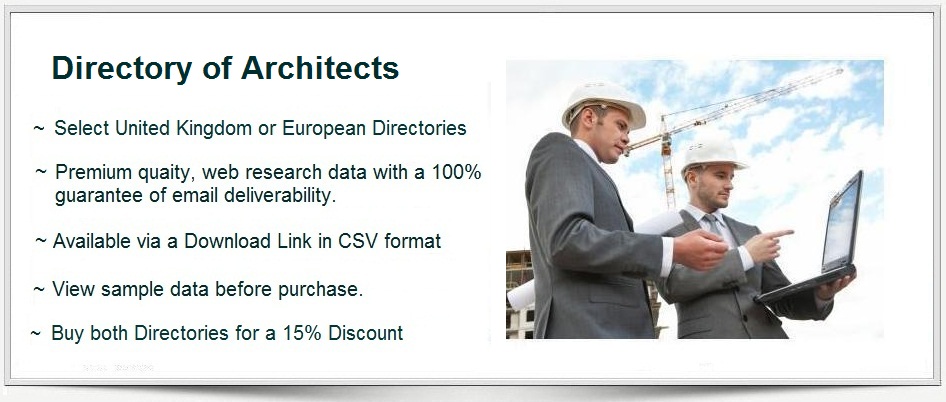 Welcome to the Email  List of UK Architects – Your Information Gateway to 1,000's of Online Contacts.
For a List of European Architects see the Link in the top Navigation Panel 
For GDPR compatibility only Architect email addresses at LTD/LLP companies are included.

Do you supply goods or services to Architects in the UK? Are you looking to expand your client base, reach more customers and boost your profits?
If so, then you have reached exactly the right place!
We pride ourselves on being the #1 provider of
GDPR

compatible Architect Marketing Lists in the UK.
So you can be sure that our data will open the door to
1,000's

of potential new business contacts, and explode your profit potential in the process.
So What Makes Our List of Architects The Best In The Industry?
Well to begin with, our painstakingly researched and regularly updated information includes details of 1,000's of Architects with 1,000's of up to date Architect email addresses mostly with PAF verified postal addresses.
Quite simply, no other  email directory of Architects comes anywhere close to providing this number of

accurate and up to date

email address contacts, and at such a low cost.
And if you don't just want to take our word for it, here's what Colin Morris at Email Marketing Tips had to say:-

So if you'd like to expand your client base, promote your goods or services and increase your profits, then take at look at what is included in this List of Architects:- 
Architects that are Limited Companies or other Corporate Organisations such as PLCs or LLPs:-
Number of Businesses: 3,890* Every record includes at least one email address.
Total Number of Architect Email Addresses: 7,414* – More than one email address at each business is often provided.
Note: All email address domains in the file match the business's website domain. Free type email addresses (such as Gmail, Yahoo, Hotmail etc) as well as email addresses at telecoms services (such as BT, Virgin, Talktalk etc) are NOT included in this file.
Website Addresses: 3,680*
Records with a Full PAF Verified Postal Address: 95% of records
Telephone Numbers: 93% of records.
*Unique Records
All Architect Email Addresses were last checked during February 2021.

View 100's of example records of Architectural Firms t

o understand exactly what information fields are included

:-

To order the List of UK Architects simply click the "Add to Cart" button below and arm yourself with 1,000's of low cost, industry specific, profit pulling contacts.

.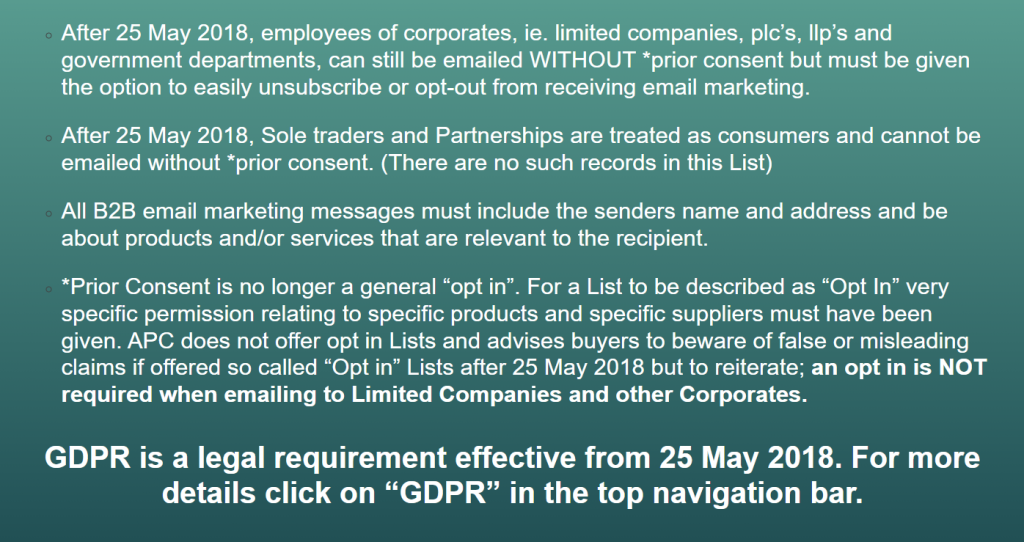 This UK email list of Architects offers vital information on online contacts at more than 4,000 Architects and Architect Firms. Do you have products and services of interest to Architects?  Do you want to widen your client base, increase turnover, and make higher profits?  If so, this is the best place to get what you need. We're so proud to be the top email address provider of architect firms located in US and UK (click here to see more details of our USA email list of architects). We guarantee that our email mailing list will give you immediate access to 1,000's of prospective customers.
What makes this marketing list, database and directory of Architects the best in the marketplace?  Our carefully researched and up-to-dated emailing list has 1,000's of records of email address contacts at UK architect firms. Through a link, it is downloadable as a .csv file which is provided to you a few minutes after the payment is verified.  The information contains email addresses as well as website information from over 3,800 architect firms.  Each firm has updated email address information and includes UK regional address details.  Click "Counts per Region" for additional details.
Our Architects email list also includes snail mailing address for approximately 50% of those listed, although we focus on electronic mailing addresses which are included with 100% of the records. Go to "Research Methods" page for more information. No other online architect email list offers the same information with such accurate and updated contacts.  Most importantly, you can get this mailing list at incredibly low cost. You will need to find  email sending services .
Hiring architects for your new home is always worth it and you can find them with this mailing list. This is especially true if you do not have the experience in this kind of project. These people can offer you the design based on the needs you have presented. They will conduct a site visit to help you make a plan for your new house or building. They can help come up with a design that can preserve trees surrounding the site.
But How Much Does It Cost To Buy a Email Directory of Architect Firms?
There is no standard fee for using an architect email directory. But there are factors that could determine how much you must spend for architect data . Size, type and location of the organization are determining factors. You may choose to use his/her initial design or ask him/her to oversee the project until completion.
Here are the other factors that could determine the overall cost of having an architect to complete your building project.
Building Cost
If you use email marketing to contact architect firms who will oversee the project from start to finish, you must ensure the database is up to date,. However, if you will only need him/her up to planning stage, the cost can go from 3% to 5% of the overall cost. With this in mind, you must check your spending as it could greatly affect how much you will pay for hiring an architect.
Hourly Rate
An architect firm may charge you per hour during initial discussion about the project. Some companies can offer you one-off consultation which can really save you money. Others may charge you per hour that can lead to spending thousands of dollars just for consultation.
When establishing architect's fee, you need to get it into writing. You must also remember that you will have to pay for his/her travel expenses.
Although hiring architects can cost a lot of money, they can offer you the best advice on how to keep the overall cost from going beyond your budget.
Architects transform the ideas and words of their clients into structures.  They design structures by themselves, or at times, work with architectural technicians to obtain the end result.  Architects are highly specialised individuals and have to undergo comprehensive training.
Architects plan and draft the design and often manage the construction of the design.  This involves consideration not only for economic and environmental requirements, but also to consider the construction team, materials and safety. 
The designs they complete need to be functional, hence the architect has to have knowledge of the requirements by the builder, such as the building and planning codes to abide by. 
Apart from requesting an aesthetically appealing design, the client or employer often requires a design that will be economically viable.  This presents a more in-depth task for the architect who needs to have the knowledge to accomplish this. 
Architects have to undergo in-depth training and require at least a degree, with further practical experience and final examinations to be registered on the national architects register.  The register is maintained and held by a government organisation.
It is a requirement for architects to be registered with the Architects Registration Board.  There is an alternate organisation that many architects are members of, The Royal Institute of British Architects (RIBA), but this membership is not an obligation.  Members have to follow the professional code of conduct of the institute, which includes having professional indemnity insurance to cover incidences where an architect offers bad advice or errs.  The insurance is a legal requirement for all members of the institute, and offers a safety net when using a registered architect.